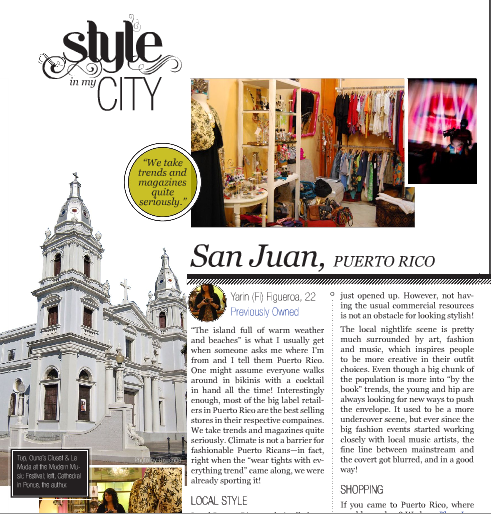 A local blogger from San Juan(PR) wrote an aricle for
StyleSample Mag
about the fashion scene around here. For those who dont know I currently live on a small caribbean island called Puerto Rico, which is full of beaches,malls,good music and partiess everywhere you go.
In the article she describes the scene in the town of San Juan which is north of where I live but pretty much the same. Its a pretty good read about how the fashion scene is around here, it also talks a little about the good places around to hang out. Go check it out
here
Congrats to Fi Figueroa for the article, check out her
blog
.
Para los que no saben , vivo en una isla tropical en el mar caribe llamada Puerto Rico, esta isla esta llena de playa, malls, buena musica y fiesta en todas las esquinas. La moda no es algo que todo el mundo sigue pero si hay personas como Fi Figueroa que hacen su mejor intento para seguir expandiendo el interes, como parte de esa larga y fuerte mision escribio un articulo para StyleSampler Magazine sobre la moda en Puerto Rico.

En el articulo describe mayormente la escena en el pueblo de San Juan, haci que si no eres de halla y quieres saber donde esta lo bueno te recomiendo que lo leas y aunque seas de halla puede que descubras un buen sitio de jangueo que no sabias que existia.

Felicitaciones a Fi Figueroa por el articulo, visiten su blog y muestren apoyo a los talentos locales.